About us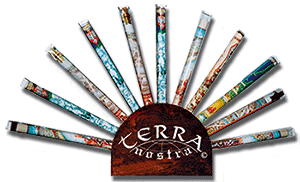 Elżbieta KuĽmiuk - General Manager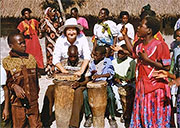 Curiosity about the world and travelling passion inspired her to take up geographical studies and to organise many exotic journeys. Tales of great explorers and their old maps challenged her to follow their examples. So she travelled and worked with maps and on maps in Europe, Africa and America. The Black Continent became her true love. As she explored the world, she dreamt of bringing the history and the beauty of Poland closer to others. Maps offer a great opportunity to do it.
Grzegorz Gregorczyk - Commercial Manager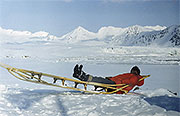 His technical mind led him towards electronics. However, he did not work in his field for a long time. He liked to wander and organize long expeditions. Fate sent him to the polar region, where he researched magnetism of Earth at a scientific station as well as assisting with a project focused on mapping the regions of Southern Spitsbergen. This is how maps got into the sphere of his interests. He learned to truly appreciate their usefulness and value later, when crossing Asia and Africa.
During (Elzbieta and Grzegorz's) journeys, their travel paths crossed and their shared dreams and fascinations became the foundation for establishing a joint Publishing House devoted to Our Earth (in Latin terra nostra). In summer 1994 the Publishing House Terra Nostra came into being and its leading motto became "Poland is beautiful, discover it with us!"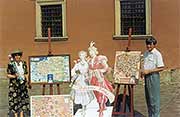 Rapidograph and ink, brush and watercolours and thousands hours of painstaking labour by outstanding artists are the essence of the original creativity of the Terra Nostra Publishing House. Inspired by the patterns of previous masters of cartography, we wish to show our country and its contemporary cities in the unique form. Our talented artists create original solutions by blending old traditions, full of rich ornamentation, with modern trends of cartography . At the time of visualization, when more frequently image than a word is the basics of interpersonal communication, our stylised retro-maps find recognition with youths, and particularly with lovers of old maps. It is our objective to promote our country via painted wall maps, so this information will be easy to see by any viewer within and outside of the country.

Contemporary panoramas of towns and castles refer in the graphic form to the way they were presented in the 17th century. You can learn a lot about the historic buildings from the precise descriptions and the provided magnifying glass enables to appreciate talent and Benedictine work of artists cartographers. Since we take special care after details we hope that in future our panoramic maps will become the source of knowledge about the towns of our times. So far big panoramas of Gdańsk, Malbork, Warsaw, Cracow, Cracow's Casimir , Lwów, Berlin, Venice and small panorama of Jerusalem and Vatican have been published.

The maps painted by outstanding artists invite you to discover the beauty of Poland. They show the charm of its monuments, the most interesting places of nature, colourful folklore, history, literature, tradition and the present day, humour and pathos. In this series the following maps have been published "Delights of Poland" and "In the Footsteps of Trilogy Heroes" by Szymon Kobyliński and the "The Heritage of Poland" by Antoni Chodorowski.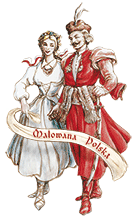 The subject of painted maps are the treasures of architecture in different regions of Poland such as remaining strongholds and castles, monumental temples, atmospheric manor houses and palaces. These maps are available with detailed descriptions of the objects. The map "Historic Monuments of the Gdańsk Region" has been already published.
All the maps are available in the form of poster (B1)with the text in four language versions - Polish, English, German and French nicely packed into a protective tube, and in the folded form . The maps are perfect gifts and souvenirs.
ADVERTISEMENT ON THE MAPS
Every jubilee or any company occasion keeps its existence in the memory of clients and business partners . Our maps are perfect for the promotion of any company or firm because they draw attention and catch the eye,
We propose very effective and original advertisement on our maps. You can also put your company's logo and advertising text on the cover of our maps or use decorative stickers on the tubes. Here are some examples: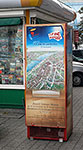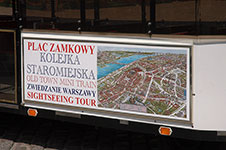 FAIRS, EXHIBITIONS, CONFERENCES
International Map Trade Association (IMTA) organised in February in various European towns.
International Book Fairs in Palace of Culture and Science in Warszawa (May)
International Book Fairs in Frankfurt (October)
National Book Fairs in Cracow (October)
Wrocław Promotions of Good Books (December) and at various occassional regional exhibitions. You are welcome to visit us !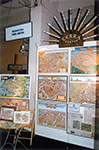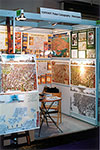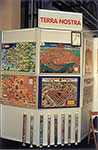 We also participate in many seminars, conferences and exhibitions. Our maps are decoration of numerous flats, houses, studies, schools, day cares, museums and town halls.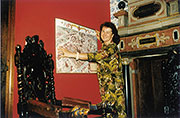 AWARDS
Our maps got several prestigious international awards. The most important of these are:

International Cartographic Association (ICA) regarded our maps as remarkable works of urban cartography;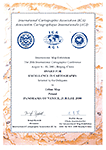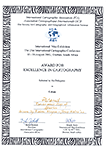 International Map Trade Association (IMTA) has awarded our maps many times: "Panorama of Venice" was regarded in 2000 in Heidelberg the "Best Wall Map of 1999" and in Budapest in 2003 "Panorama of Berlin" was regarded "the best wall map of 2002".

The folded version of the panoramic map including the plan of the city of Berlin has been awarded twice as "the Best Folded Map of 2006" in Wrocław by the Polish Association of Cartographers and in Salzburg in 2007 by IMTA.